The following two tabs change content below.
Latest posts by Mohd Wassem (see all)
ShahRukh Khan is much more than just an Actor – he is a legend and an inspiration to millions of the country and we at Touchtalent.com wanted to salute him in our special Touchtalent way and tell you what separates him from a regular actor to becoming the World's 2nd richest Actor.
---
The first quality we would want to highlight is humility – how Shah Rukh – even though being the biggest actor in the country – is still down to Earth and treats everyone in the best possible polite way.
---
"I never yell at kids. I just hug them hard and threaten them not to do something again. I would never be aggressive with a woman or a little child. I would rather die before I raise hand on a little kid or a lady"
---
"There is a fallible quality even in the greatest ones,everyone fails once in a while, be it Shah Rukh Khan or Ronaldhino"
---
The second biggest quality of Shah Rukh is his confidence and his ability to engage the crowd and win them over by his constant quick wit and humor. He believes in hard work and not awards – he believes in his fans and their loyalty above everything else.
---
"I'm like a Rolls Royce which can run without an engine,just on reputation"

---
" There is only one religion in the world-hard work"
---
"Awards that ignore me are losers"
Sketching by Ketak Shelke
---
"My biggest achievement is that I can make a lot of people smile just by my presence, even if its a Lux ad"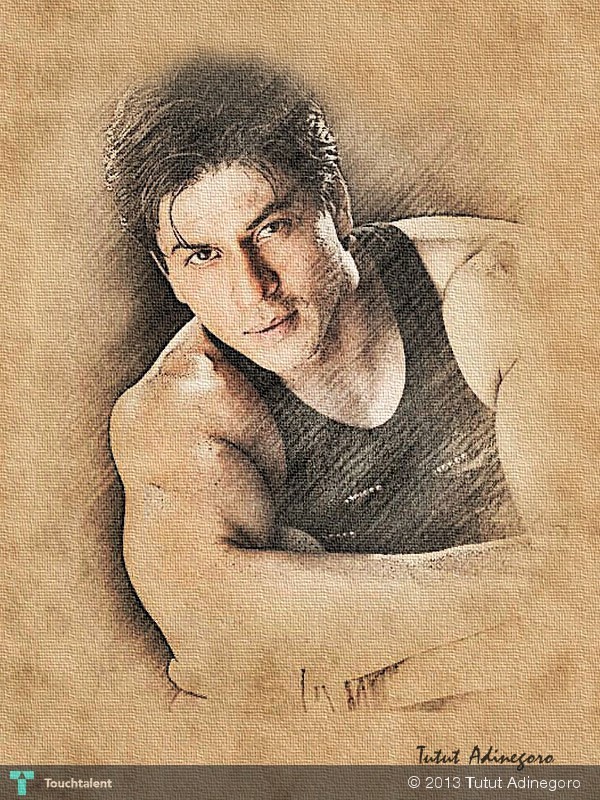 Sketching by Tutut Adinegoro
---
A true Artist. Shah Rukh supports all artists and all their artwork – all spheres of creativity. He believes in being interesting and trying out new things in life – just like he does himself in movies, experimenting with different roles.
---
"Do not be afraid to destroy systems that kill art and your souls."
---
"If you get bored with the person you married for love, there's something wrong with you – not with that person"
Sketching by Rahul Tank
---
Swagger. Shah Rukh is about a personality who is looked up to by all youngsters and has such a spark about him that will make him stand out from the crowd. He has a certain X-factor in him which he carries around and makes him the King Khan and the Badshah of Bollywood.
---
"Don't be negative. It shows on your face"
Sketching by Ayub Majeed
---
You never win the silver, you only lose the gold
---
Touchtalent is the preferred platform for users in 192 countries to express themselves though creative images, texts, audios and videos. Start expressing yourself in more creative and personalised way