The following two tabs change content below.
Akanksha Prasad
Country Manager @Touchtalent.. A person who believes in the power of optimism and hope. I believe in doing my best in everything I do. I heard a quote by William Blake, "I must create a system or be enslaved by another man's; I will not reason and compare; My business is to Create." So, I will write about anything that captures my attention. Hope you like it. Interests:- Art, Photography, Music, Wildlife, Limnology, Archaeology, Psychology,...
Latest posts by Akanksha Prasad (see all)
Share the post "Micro Sculpting – You can't miss this Wonder Boy Bhanu"
We know what a pencil is .. An ordinary pencil ? What's so special about it ? Ask me!! Nahh!! I don't see anything special about a pencil. But this little Wonder Boy with a pair of glasses and flashy white teeth will show you what a pencil can be used for apart from the acquainted uses to us like writing or sketching.
Hailing from Vijayawada, Bhanu Prakash B is a believer in the quote which says, "Be a nice person! And don't try to prove to someone!" An avid fan of the Rap God Eminem, he is a student of National Institute of Technology in Calicut. He also organised an Exhibition Workshop on Micro Sculpting focusing on the huge difference that small things can make.
Let's show you the magic ..
Graphite Skull
Don't you think this graphite skull is good enough to give you a bone chill sending you deep into some murky riverside ?
---
Micro Sculpture of CAT
Oh! Look at this cute little cat. Hey! Did it just purr?
---
Divinity in Unity
The body is meant to be seen, not all covered up. Shy ? I meant the pretty woman shying away with her hand on her head.
---
The CUBE
Playful, ain't it ?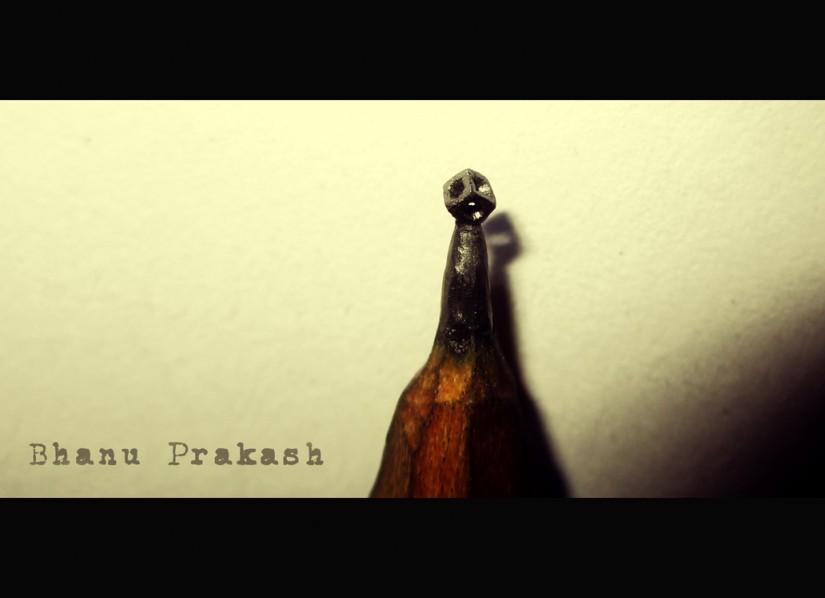 ---
I Made a Christmas Tree
Santa! Jingle Bell! Jingle Bell! Jingle all the way…
---
A Cup of Graphite
Tired? Let's sit down and relax with a cup of tea.
---
Got an Extra Hand
Always welcome! Share the load.
---
Man's Best Friend
Woof! Woof! Could I just get a ball to play?
---
Too much of pencil ? Is it? Let's show you something else.
My Chalk Piece Art
Last, but not the least, this is the same chalk our teachers have used to write down those complex formulae we hated …
Wow !! That's the word !!
---
This is not the end. You will see a lot of coming from this Wonder Boy Bhanu…
---
Touchtalent is the preferred platform for users in 192 countries to express themselves though creative images, texts, audios and videos. Start expressing yourself in more creative and personalised way