The following two tabs change content below.
Latest posts by Divya Pandey (see all)
Its Diwali and its The Festival of Lights!!! Dusting, Cleaning and Shopping- These are the activities happening everywhere.
Creativity was never about following the old path but about creating a new one, the amazing one!! tweet
Wow! Isn't it an aid to eyes. Beautifully created, amazingly carved ! Awesome it is! tweet
Sweets and Chocolates! Yummy! Yes, they are! We lick them, we eat them and we enjoy them like anything. But what after that? We throw the wrappers and contribute to the 'Garbage Dumps.' Hold on!! Can't we do something amazing out of these? Can you imagine the fact that out of these wrappers worth very less value, we can create something worth putting in Showcase.? Well! Somebody has imagined it and created his imagination in such an amazing manner that from next time onwards you buy a chocolate, you will wonder what to handle more carefully.!!!
Let's have a sneak peek into the creative portfolio of Mr. Vysakh Siddharth.
When Creativity collides with The Wrapper, showpiece is created. tweet

The Golden Guy wants to say something. Maybe he wants to thank Vysakh for Creating him. tweet
---
The Diya 'Peacock' ! tweet

We light Diyas to spread the light in our houses. But this diya will not only shine but it will also reflect the light of other diyas. tweet
---
I'm the most beautiful! So Gracious I am! Won't you put me in your best of masterpiece collections.!! tweet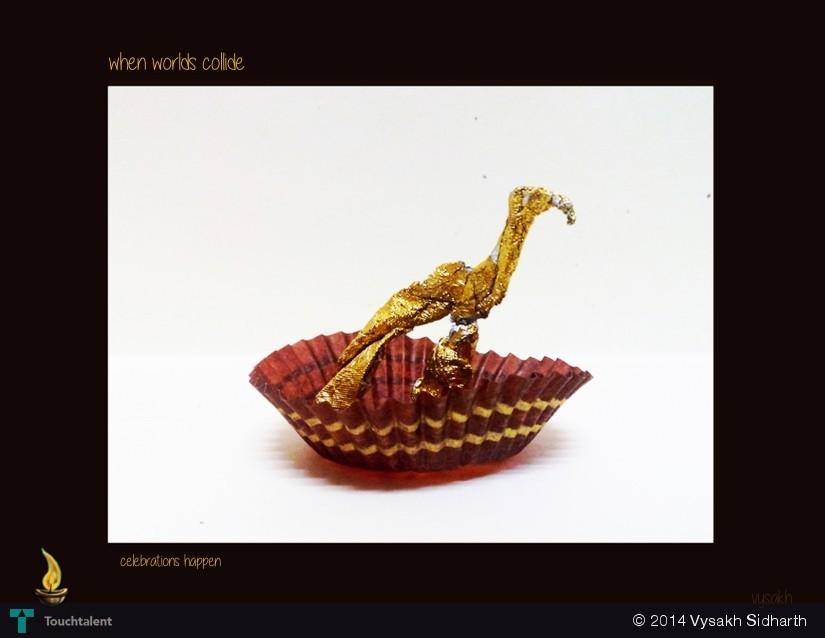 ---
And the most loyal animal, the cute puppy is here. Crafted as the flame of this diya, he looks like a cutie pie. tweet
---
The clever most Miss Fox is here too !! tweet
The one way to make our surroundings beautiful is by cleaning the dust and dirt. The another way is by adding the value to them. Transforming the Garbage into something worth value.
This Diwali, lets create something creative like Vysakh did and make it more fun.
Be a part of the Halloween-Diwali Exhibition!!

tweet
Upload Your Creative work here @ Touchtalent
With Hashtags #Diwali #Halloween & #Festivals

tweet
---