The following two tabs change content below.
Latest posts by Robijyoti Bhattacharjee (see all)
Share the post "After storming Twitter MufflerMan Trends on Touchtalent"
He is a man with an honest vision who takes the new Indian dream to a whole new level. A man with caring heart, unaltered determination, and progressive thinking. In him, people saw a new India – free of corruption and pro people. He won common men's trust and became the Delhi CM, though sadly for a limited time for he surrendered to some unfavorable political situations. The Mufflerman, as he is lovingly and sometimes critically referred, is yet again back in action for the upcoming Delhi election.
Here're some artworks from Touchtalent artists about Kejriwal.
India was desperately seeking a change from corruption and scams. She wanted an answer and not silence to everything that was hurting her image and essence. When anarchy wins and darkness looms, revolt is the answer to initiate and lead the change. Somewhere something was coming
Then a Kejriwal arrived and stole the limelight. A man who was already active in developmental efforts and awareness campaigns.
He holds protests and found a large gathering of followers – not because people have to join and support him, but because people saw in him their representative who is like them – by look, by attires, by language and by thoughts.
Because being part of the system was necessary to change the system, he formed AAP with his supporters. AAP won because it rightly leveraged on the momentum of anti-corruption campaign Anna started. It connected with common people, it branded itself like a layman, and best of all it made common people feel they are actually forming a government.
With Kejriwal in power, people thought they have lately gained something. But the path that leads to a corruption-free India he envisioned was not so easy
Kejriwal resigned from the post of Delhi CM, after 49 days of entering office, on Jan Lokpal fiasco
People felt stranded, critics said he is a dramatist, ran away from responsibilities. But he still enjoyed a good number of follower's faith. With the upcoming election of Delhi, Kejriwal is yet again busy in constructive efforts to regain people's mandate. Whether he re forms government is the news of tomorrow, but no one can deny Kejriwal heralded a new age in Indian politics.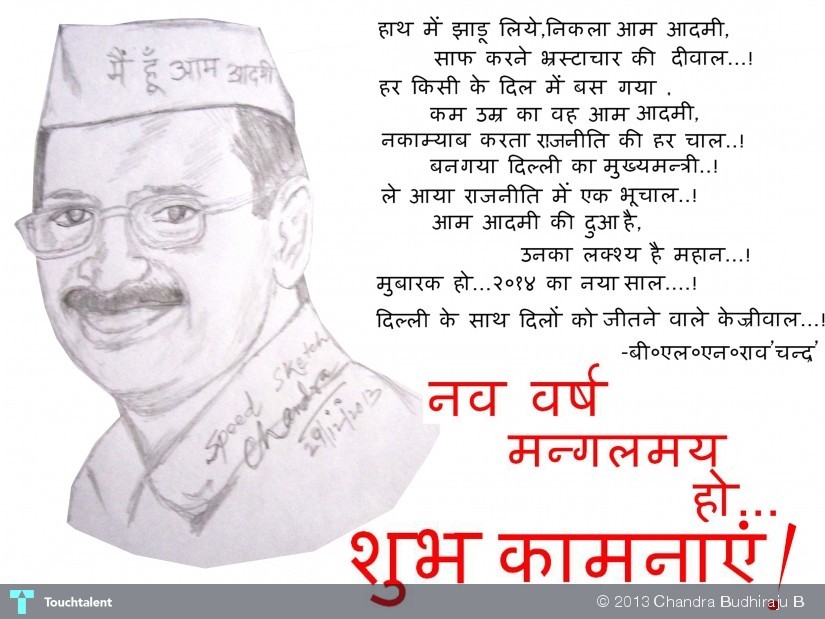 No mentioning of Kejriwal is complete without the reference of Anna Hazare. Some say the road to limelight would have been harder or impossible for Kejriwal if there was no Anna

If you are an artist please share your art with us on the largest platform for creative people at Touchtalent
---
Touchtalent is the preferred platform for users in 192 countries to express themselves though creative images, texts, audios and videos. Start expressing yourself in more creative and personalised way